The 10 Safest Cities In Nebraska For 2020
We used data and science to determine the places in Nebraska where everyone sleeps safe and sound.

Editor's Note: This article has been update for 2020. This is our sixth time rankings the safest places to live in Nebraska.
Swipe left for slideshow. Article continues below.
Article Table Of Contents   
(Skip to section)
You won't need Batman's Batmobile, The Jetsons' flying saucer, or Wonder Woman's lasso to escape anything scary in Nebraska: it's super safe.
Ok, maybe not THAT safe. To be honest, Nebraska's violent and property crime statistics do come in slightly above the national average, but the state does have some pretty dangerous cities, so don't send your superhero home just yet. More importantly, you should take a look at HomeSnacks' list of safest places to live for 2020 before you pack the minivan and head to 'Nebraskaland'.
How did we do determine Nebraska's safest places? We consulted the numbers. We looked at important factors like property crimes and violent crimes per capita for every place with over 5,000 residents. In total, we analyzed 30 cities.
We discovered that the Cornhusker State has safe places for every type of person and every budget. For instance, if you want to choose a safe college town for your kid, choose York, Bellevue is a safe choice for singles, and if you don't have to worry about a budget, you should definitely give Gretna a look.
Have we picqued your interest? Want to know where the top ten safest places in Nebraska are for 2020? You're going to have to keep reading.
Here are the 10 safest cities to live in Nebraska for 2020:
We are also happy to report that Nebraska's safest places have great schools, available jobs with good salaries, and programs in place to keep its residents happy, healthy, and you guessed it, safe. They are the kind of places that you can give your guardian angel a night off or two.
But where should one start in a state that's divided into 93 counties and 530 cities and/or towns? We think that you should start at Nebraska's safest place for 2020. So, what city is the safest place to live in Nebraska? According to the most recent FBI data we crunched, Seward is the safest place to live in the Cornhusker State.
To see how your favorite city ranked, take a look below; and if you don't find your favorite there, head to the bottom.
For more reading on safe places to live in and around Nebraska, check out:
The 10 Safest Cities In Nebraska For 2020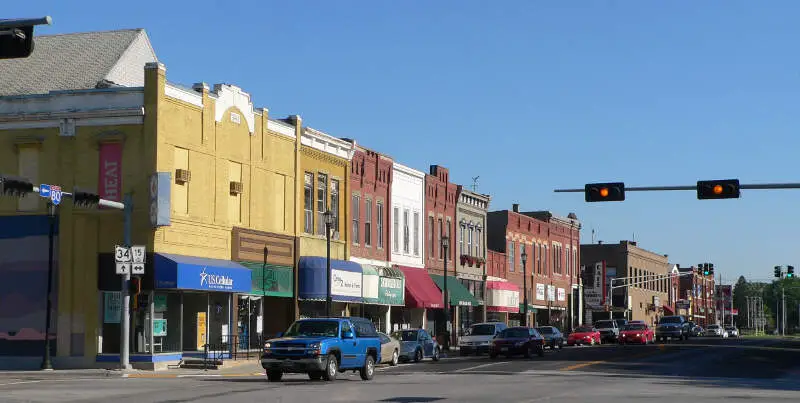 Source: Public domain
Seward really blew the competition away to earn the top spot of safest city in Nebraska. With the lowest rate of violent crime and the second lowest rate of property crime in the state, Seward has the safest streets anywhere in the Cornhusker State. Violent crime is about nine times less common in Seward than in your average American city. Not to mention the less than 1% chance of being the victim of a property crime in a year's time.
Not sold? Do you find Seward lacking in eccentricity? Then you haven't seen the World's Largest Time Capsule, the work of one local celebrity. In Seward, both your possessions and miscellanea from the 1970's will be well-preserved
Seward is a western suburb of the state's capital, Lincoln.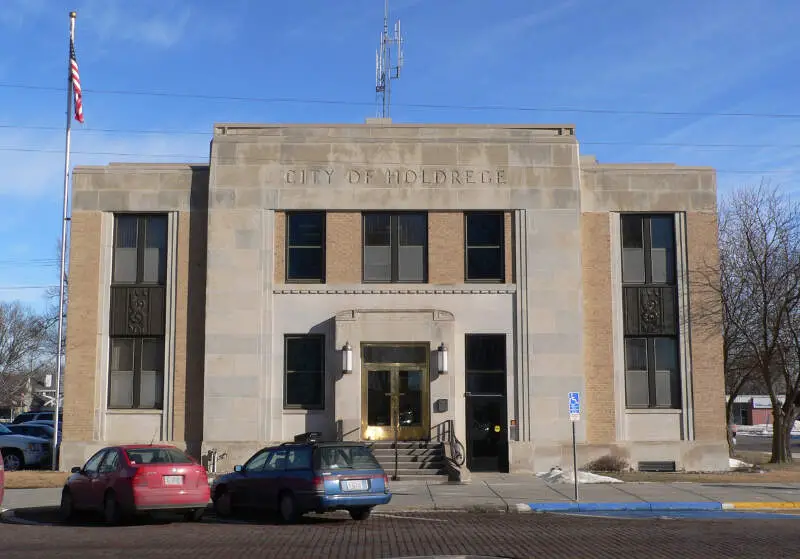 Source: Public domain
You're unlikely to witness any hold-ups in Holdrege. In fact, you're four times less likely to witness any time type of violent crime here as than in an average American city. And the property crime rate in Holdrege is equally impressive, with both categories earning the #3 ranking statewide. Holdrege also got a 8 out of 10 or higher on our snackability scores for education, amenities, jobs, and affordability, so these low crime numbers are icing on the cake.
That's not to say the Holdrege doesn't have a history with prisoners though. Back in WWII, Holdrege was the site of a German POW camp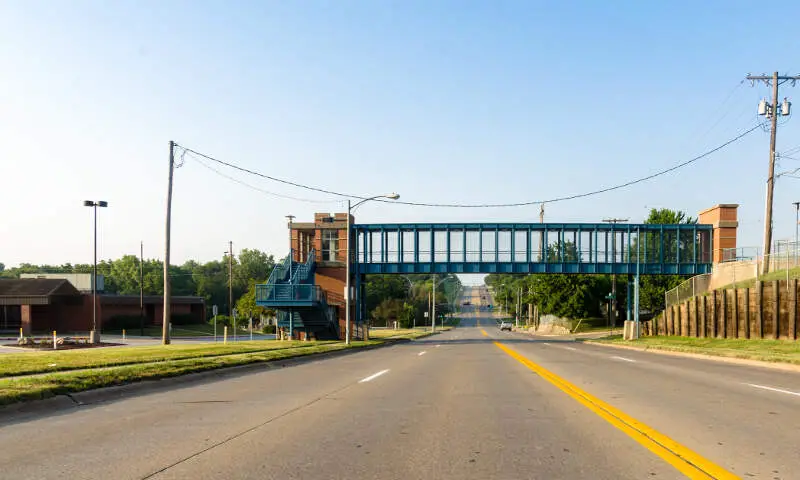 With three breweries in a city of only 5 square miles (Pint Nine, Kros Strain, and Lucky Bucket), you'd better believe that La Vista is a safe place to sit down for a pint. Luckily, La Vista folks aren't overly-rowdy drinkers. In fact, with the fourth lowest rate of violent crime and the seventh lowest rate of property crime in Nebraska, La Vista residents seem mellowed out by all that good grog. La Vista also got a 9/10 score on our overall snackability score with solid numbers in every category.
La Vista is a southwestern suburb of Omaha.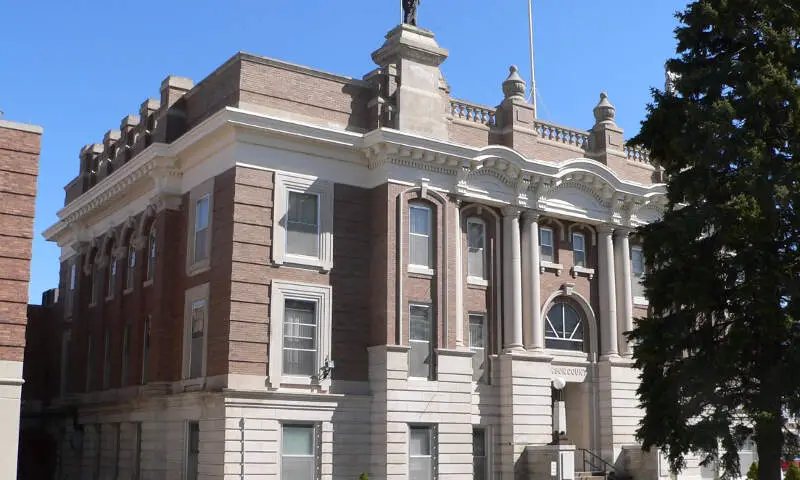 Source: Public domain
Located right along Route 30 in the southern part of the state, Lexington takes the fourth place medal for safety in Nebraska. Lexington had solid numbers in both violent and property crime, with residents facing about a 0.1% chance of being the victim of a violent crime and about a 1% chance of being the victim of a property crime during the last year of available data.
If you still want to enjoy some weaponry in a safe environment, check out the Heartland Museum of Military Vehicles, where there are more than 100 tanks, helicopters, and other vehicles on display. In a city as safe as Lexington, it's doubtful that anyone will pull a Grand Theft Auto and steal one of these for a joy ride.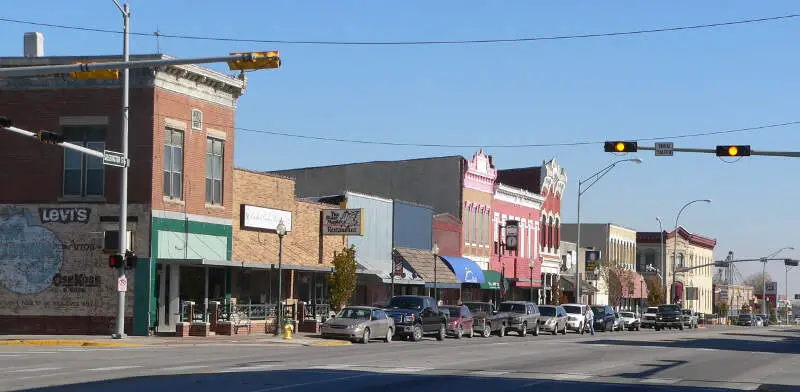 Source: Public domain
A part of the Omaha-Council Bluffs Metro Area, Blair residents take safety as seriously as those kids in The Blair Witch Project should have. With less than one violent crime per month, you probably won't be witnessing any horror movie levels of violence in Blair. The property crime rate in Blair is also the eighth lowest statewide, so residents don't need to have a panic attack if they forget to lock their door in the morning.
Just don't forget to return your books to the Blair Public Library, or you might become Blair's most wanted criminals.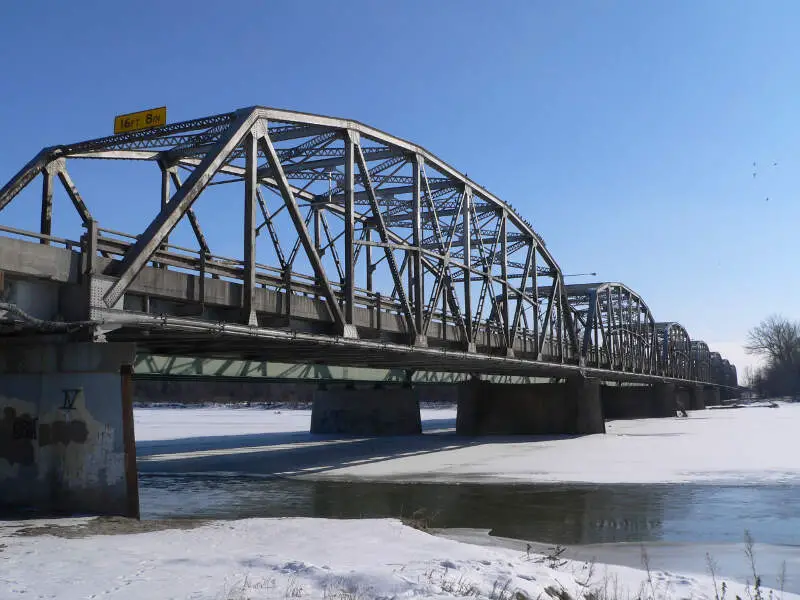 Source: Public domain
Located in Platte County, Columbus is the largest city to make this list.
The city experienced about one property crime per day and two violent crimes per month. Both types of crime are infrequent enough to land Columbus in the top ten statewide. So don't fret if you misplace your wallet at Pawnee Plunge Water Park; chances are it's floating in the water, not in the pocket of some thief.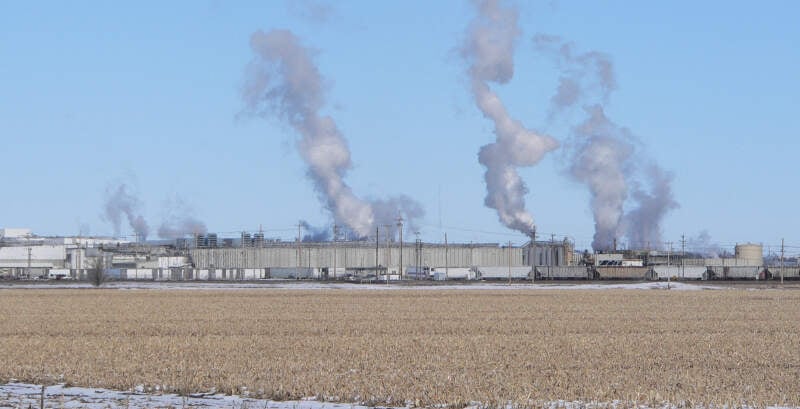 Source: Public domain
You won't hear any foul-mouthed fourth-graders at South Park in Schuyler, Nebraska. You also won't find any robbers; Schuyler had the lowest rate of property crime in all of Nebraska. With only 38 property crimes reported in the last year of available data, Schuyler experienced roughly four times less property crime than the average American city. There was also one violent crime per month, so it's not exactly like Schuyler's only on this list for its lack of burglars.
Schuyler is just 20 minutes east of Columbus, and just an hour and some change outside of Omaha and Lincoln.

Source: Public domain
Living in Gering is pretty great; it's right at the base of the striking Scotts Bluff National Monument, it got a 8.5/10 on our overall snackability score, and now it's been ranked in the top ten safest cities in Nebraska.
Gering ranks better in property crime than violent crime, with residents having about a 1 in 73 chance of being the victim of a property crime during the last year of available data. You don't have to keep your eyes peeled for pickpockets with numbers like that.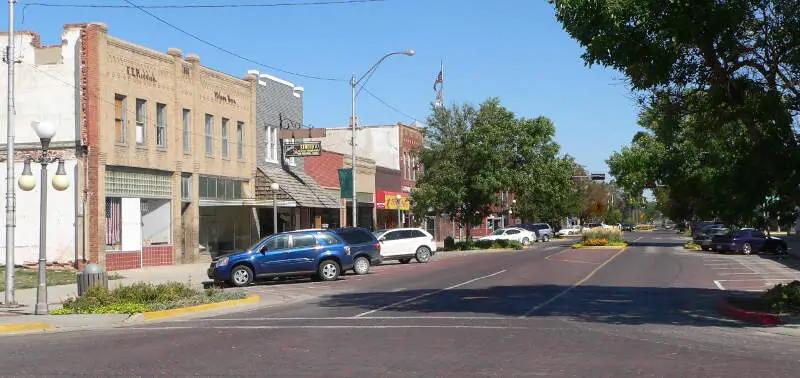 Source: Public domain
All the residents of Alliance seem to have formed an alliance against crime and, with the crime rate so low, it seems to be working. Alliance had about three times less violent crime than your average American city, which is good enough to earn the city the ninth place ranking statewide for this category.
And if you want to soak up some culture without buying tickets for a transatlantic flight, you can go to Carhenge, which is a modern-day ode to Stonehenge that incorporates cars instead of stones. I don't know where they got the cars, but they probably weren't stolen in a city as peaceful as Alliance.
Alliance is located in the Nebraska Panhandle in the western part of the state.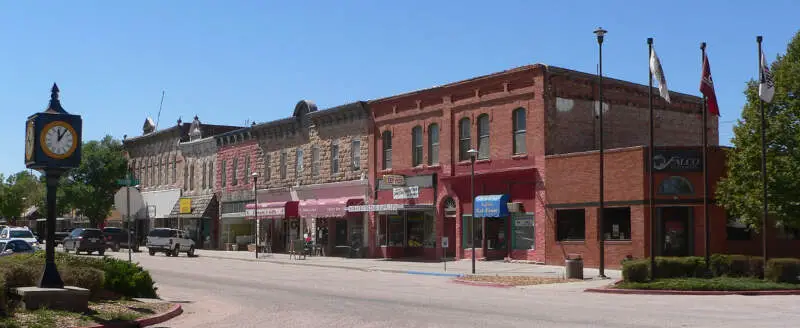 Source: Public domain
Coming in tenth place for the safest cities in Nebraska is Chadron, a city in the north of the Nebraska Panhandle. Chadron only experienced nine violent crimes and 94 property crimes in the last year of available data, so most days in Chadron pass without any crime happening at all. History buffs can learn more about pioneering ventures at the Museum of the Fur Trade.
Nobody's going to steal your pelts in a city as safe as Chadron anyway.
How we calculated the safest cities in Nebraska for 2020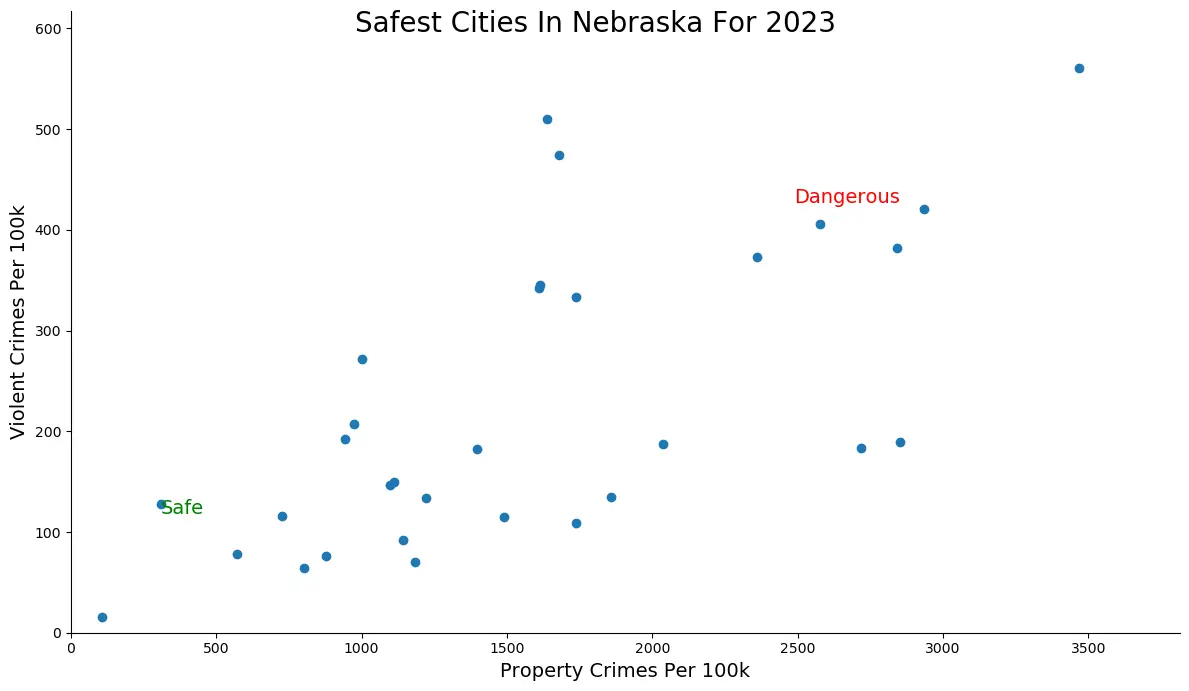 While there are surveys and public polls on what cities in a state are the safest, we didn't want to rely on speculation and opinion. Instead, we looked at the hard numbers from the FBI's most recent report of crime (Published Sept 2019) in Nebraska.
Specifically, we analyzed the
FBI's Uniform Crime Report
which summarizes the number of property crimes and violent crimes in each city per year. We used two criteria:
Violent crimes per capita (murders, assaults, rapes, armed robberies)
Property crimes per capita (thefts, burglaries, motor vehicle thefts)
For example, there were a total of 74 crimes committed in Seward which had a reported population of 7,209. That means the number of crimes per capita is 0.0103 which translates into a 1 in 97 chance of being the victim of a crime.
We only looked at cities that have populations of more than 5,000 people reported to the FBI in 2018, the last reporting year. This left us with a total of 30 of the biggest cities in Nebraska to rank.
We ranked each city for each criteria from 1 to 30 where 1 in any particular category is the safest.
Next, we averaged each places two criteria to create a Safety Index. We crowned the place with the lowest overall Safety Score "The Safest Place In Nebraska" with any ties going to the bigger city. You can download the data here.
The safest city in Nebraska, based on our criteria, is Seward. The most dangerous city in Nebraska? Omaha, where residents had a 1 in 24 chance of being the victim of a crime.
Note: This report is not an analysis of the effectiveness of local police departments, nor does it reflect the fact that people from out of town may come into a community and cause a crime. It simply looks at where crimes occurred most frequently, based on a city's population.
There You Have It - The Safest Cities In The Cornhusker State
Looking at the data, you can tell that Seward is as safe as they come, according to science and data.
But as most Nebraska residents would agree, almost every place here has its safe and not safe parts. So just make sure you're informed ahead of time.
Here's a look at the most dangerous cities in Nebraska according to the data:
Omaha
North Platte
Grand Island
For more reading, check out:
Breaking Down Crime In The Safest And Most Dangerous Cities In Nebraska

Share on Facebook
Chris Kolmar has been in the real estate business for almost ten years now. He originally worked for Movoto Real Estate as the director of marketing before founding HomeSnacks.
He believes the key to finding the right place to live comes down to looking at the data, reading about things to do, and, most importantly, checking it out yourself before you move.
If you've been looking for a place to live in the past several years, you've probably stumbled upon his writing already.
You can find out more about him on LinkedIn.