This article is an opinion based on facts and is meant as infotainment. Don't freak out.
Do you know anyone whom you'd refer to as White trash? Most likely. Either there's someone at your job, in your neighborhood, or in your family that you'd throw that label on.
Essentially, White trash is everywhere.
While calling someone White trash might be a mean-spirited way of ridiculing or poking fun at a particular demographic, it can also serve as a way to express disdain about the way someone lives their life. It isn't as derogatory as using other racial slurs, and in fact, the term has a bit of humor associated with it, making it the focus of pop culture.
Take for instance Jerry Springer, Honey Boo Boo, Kid Rock, Eminem, Uncle Rico from Napoleon Dynamite and even Cousin Eddie in National Lampoon movies.
According to the Merriam Webster Dictionary, white trash is defined as:
"A term used broadly to define a person or group of persons whom embody the concepts of ignorance, racism, violence, alcoholism, poverty, and anglo-saxon ancestry. Similarly used with the term 'cracker,' 'hillbilly' or 'redneck'."
So, using some data crunching, we should be able to measure where the most White trash communities in the state of Pennsylvania are actually located.
After analyzing data, watching too many fist fights and perusing illiterate Facebook comments, we've determined these are the most White trash cities in Pennsylvania:
Johnstown
Shamokin
Bradford
Lewistown
Pottsville
McKees Rocks
Corry
New Castle
Towanda
Dallas
Time to take some meth and stay up all night with us as we go through the cities one by one. And before you say we're some kind of reverse racist, you can also check out the most Ghetto city in Pennsylvania.
How we determined the most white trash cities in Pennsylvania?
Using publicly available government data, as well as Google Maps, we were able to collect the data on the following white trash metrics:
Cities where there are lots of white people
Cities where residents are poorer than average
Cities where a high number of residents are high school dropouts
Cities with a high number of single parents
High drug use
Higher than average Payday Loan Outlets
Violent cities (measured in aggravated assaults)
Cities with a high number of residents on welfare
We used the government Census for most of the data. For drug use and violence, we used FBI data, and for Cash Advance Outlets, we used Google Maps.
Simple, right?
We limited the analysis to non-CDPs that have over 5,000 people.
Then, we ranked each place from 1 to 142 for each of the white trash criteria.
Next, then averaged all the ranks to create a "white trash index".
In the end, Johnstown ended up being the the most white trash city in the Keystone State.
1. Johnstown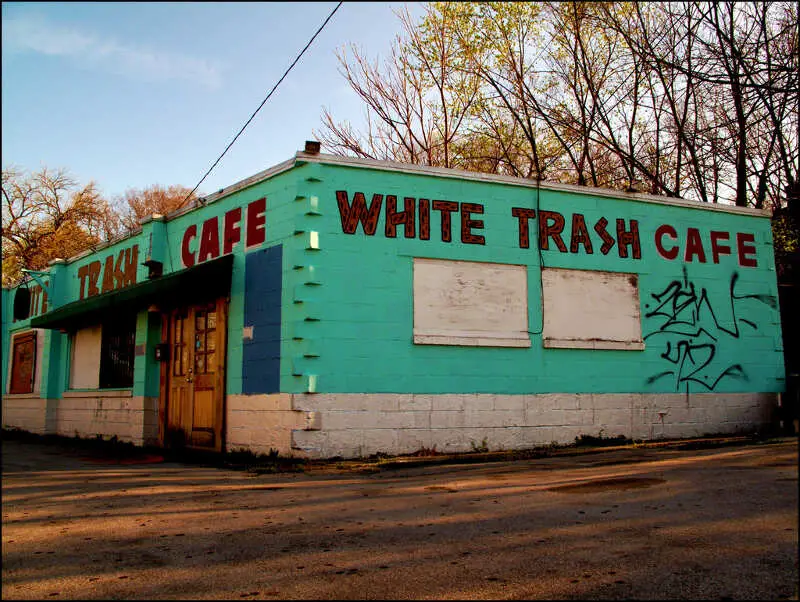 Source: Wikipedia
Population: 20,608
% White: 78.06%
Dollar stores: 15th in PA
Toss back a Budweiser, and suck down another Camel, Johnstown, cause you're the whitest trash of all in Pennsylvania.
Many of the folks in Johnstown smell of cheap cigarettes, and if you grew up in Johnstown, there's a decent chance you or your date (or both) wore camouflage at your last Valentine's Day dinner.
Johnstown ranks in the top 10% for several categories, including number of residents on welfare, most amount of high school dropouts, as well as a high number of payday loans per capita.
Don't laugh, Altoona. You weren't too far out of the top 10 yourself.
2. Shamokin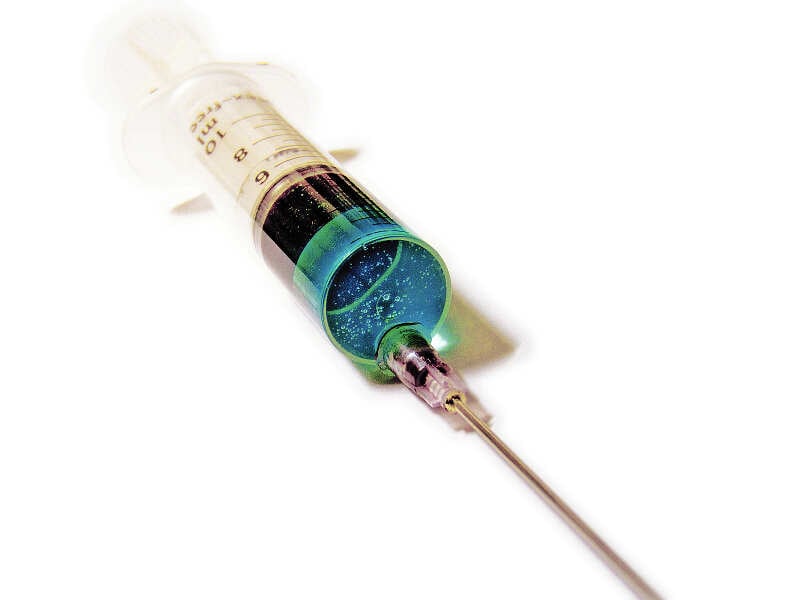 Source: Wikipedia
Population: 7,517
Dropout rank: 10th
% on Welfare: 25%
Forget about the orange color of the river in Shamokin. How about the population: The high number of mullets, shag hair cuts, teased out bangs, and the number of people who wear pajamas to Walmart.
Shamokin's population is as close to 100% white as you can possibly get. If you live here, and you aren't white, you are most likely trash.
Shamokin was in the top 5 in the state for poor, uneducated white residents, but it ranks fairly low when it comes to single, white moms. So at least they tend to stay together in Shamokin, which is certainly something they should be proud of.
3. Bradford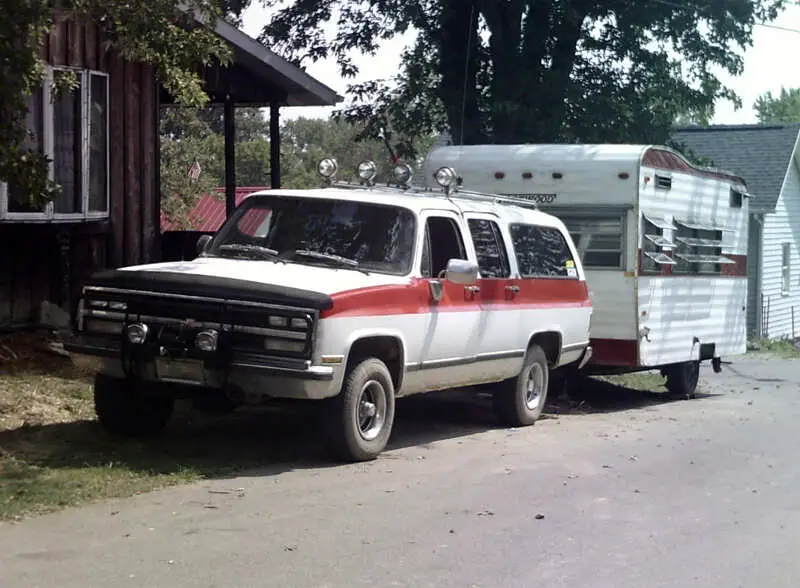 Source: Wikipedia
Population: 8,768
Assaults rank: 6th
Welfare rank: 5th
Little Bradford is along Route 219, near the New York state line. This is one of the whitest cities on this list, and judging by the numbers, this place is pretty damn trashy.
Bradford ranks in the top 5 for three separate white trash metrics: Number of aggravated assaults and poor, white, single mothers on welfare.
If you live in McKean County, there's a good chance you've watched every episode of "Here Comes Honey Boo Boo," and absolutely swear that CMT is the best channel on cable.
If you even have cable.
4. Lewistown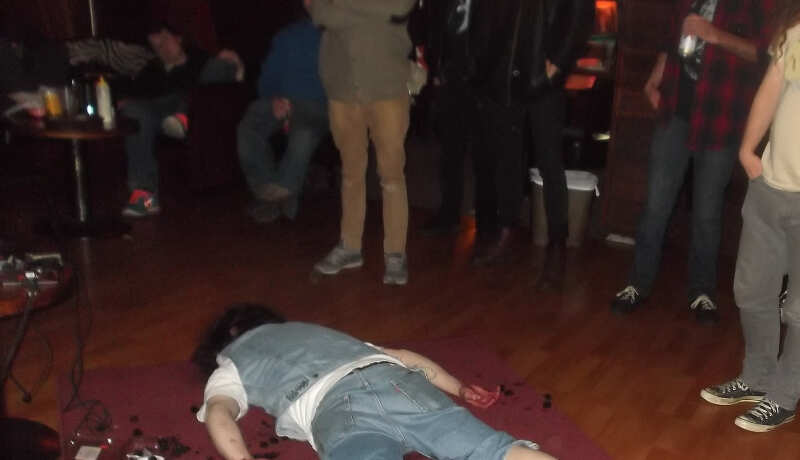 Source: Wikipedia
Population: 8,297
% White: 92.94%
Drug use 10th in PA
If you and your kid have moved in with your boyfriend after two dates, then you might be from Lewistown. This place ranks 5th in the state for aggravated assaults (meaning drunken fist fights), and is 8th in the state for number of payday loan stores per capita.
According to online forums, L-Town is a place with a ton of heroin addicts. Even the Amish are doing heroin here. White Trash Amish? That should be a reality show for sure!
5. Pottsville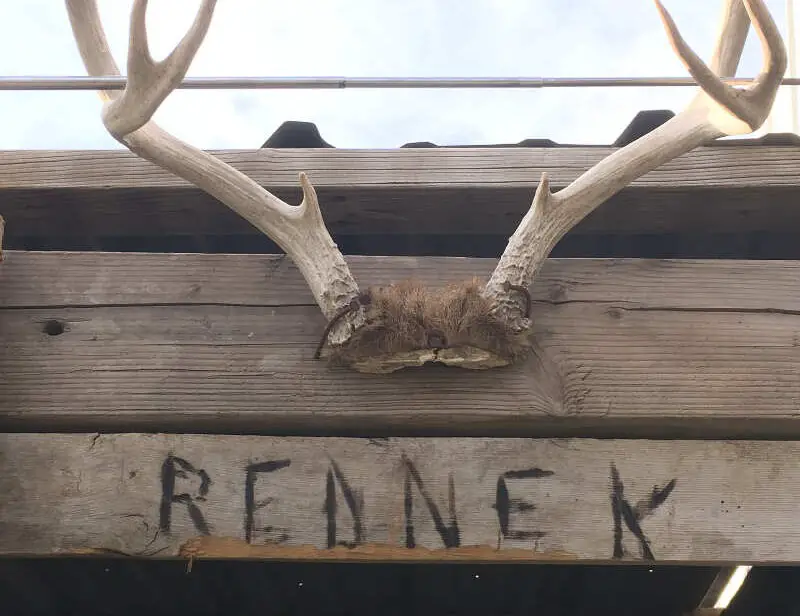 Source: Wikipedia
Population: 13,718
Drug use: 12th
Payday loans rank: 12th
Pottsville, PA. Great beer, trashy folks. Nearly 1 in 5 residents is a poor single mama.
If you're a dead-beat dad named Rick who snorts Tylenol, and you moved to Hazleton with your sister's best friend, you might be from Pottsville.
Drive down a big road in Pottsville, and you'll see a bar, then a church, a bar, a church, a bar, etc. It won't be hard to find the trash – there certainly aren't pregnant 17-year-olds at church.
6. McKees Rocks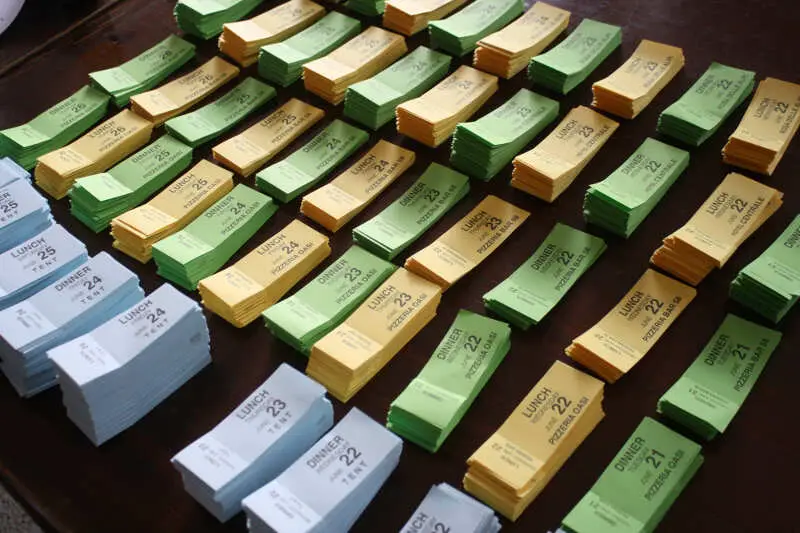 Population: 6,075
Property crime rank: 1st
Crime: 9th in PA
"The Rocks" is a teeny little place right outside of Pittsburgh. The number of drug-related crimes, aggravated assaults, and high number of dropouts makes this White trash central for Allegheny County.
Plus, McKees Rocks ranks 1st in the Keystone State for number of thefts per capita. Nothing says 'White trash' more than stealing a lawnmower to buy some meth.
McKees Rocks has two strip clubs (Silky's and Club Erotica). It's the type of place where you'll see drug deals going on inside of Citgo.
7. Corry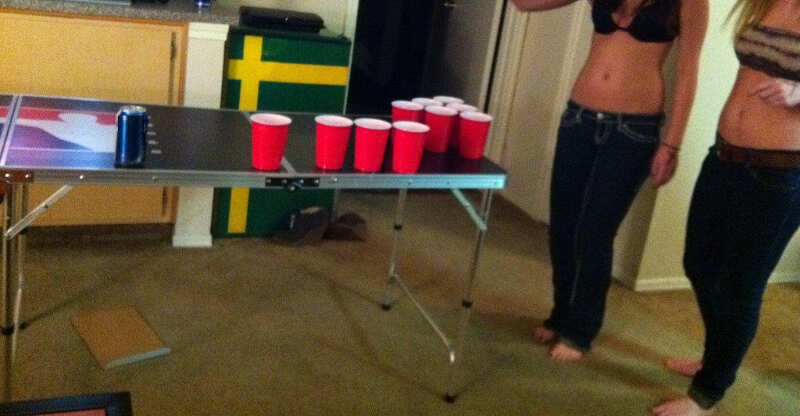 Source: Wikipedia
Population: 6,509
Dropout rate: 11%
Thefts per capita: 3rd
Welcome to Corry, PA, where the official vehicle is a rusted out 1987 Chevy Blazer. At least they have a college here (Mercyhurst), where folks can take a few classes before dropping out to take care of their kid(s).
Statistically, Corry ranks in the top 20 in a few categories, including number of Walmarts per capita. Corry residents who want to move up in the world make the trek to Erie to become assistant managers at Wegmans.
8. New Castle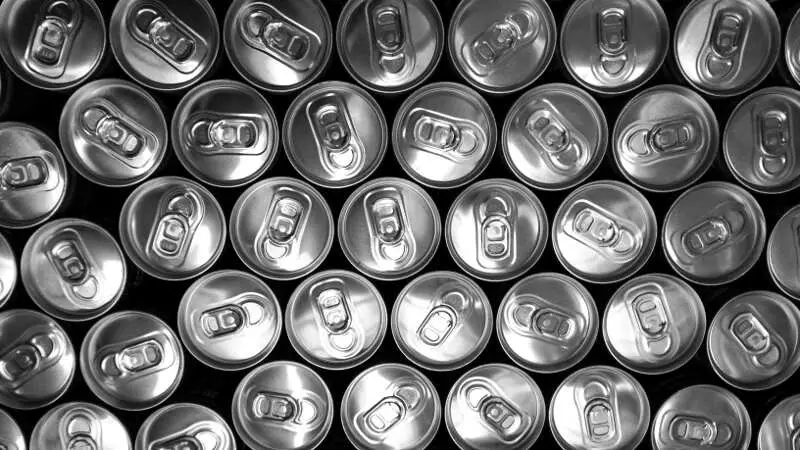 Source: Wikipedia
Population: 22,949
% on welfare: 25%
Check cashing stores: 13th in PA
According to online forums, New Castle is filled with slums and meth head Steeler fans. Hey don't shoot the messenger!
Sadly, a large percentage of the New Castle population is sustained on welfare, workers comp, unemployment benefits, Social Security, Medicare, and Medicaid.
9. Towanda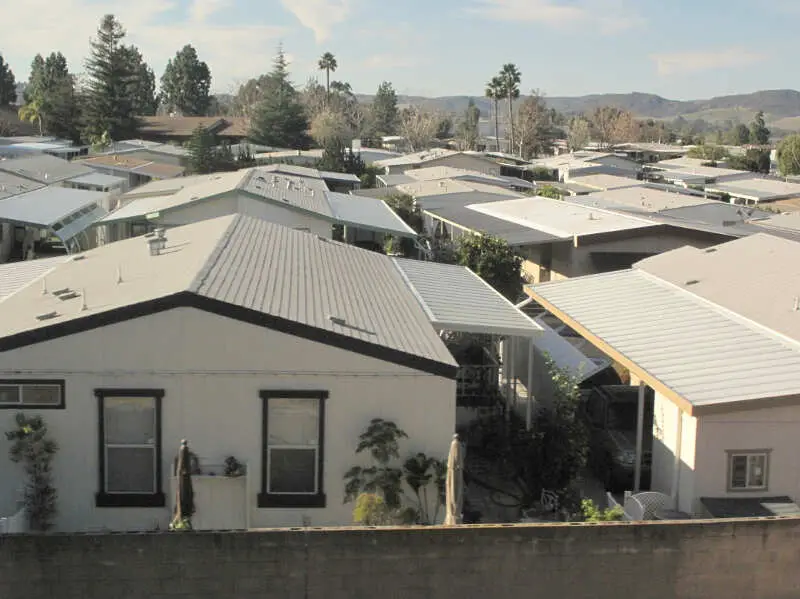 Source: Wikipedia
Population: 43,369
% White: 48.13%
Estimated white trash: 8,293
Of course we can't forget Towanda, where a large number of people live on disability, or work at one of the 20 or so Dollar Stores in town.
Drugs and crime are a big deal here, as are the high number of single, white mothers.
10. Dallas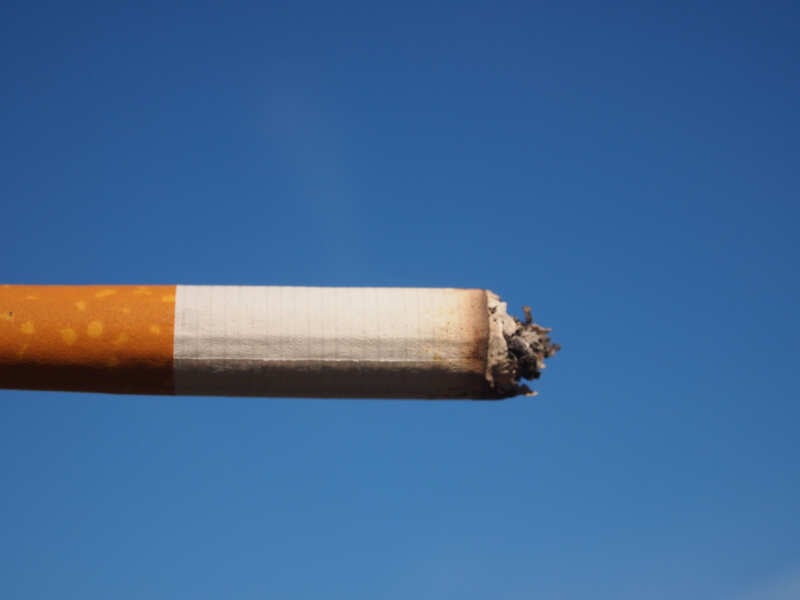 Source: Wikipedia
Population: 25,810
Dropout rate: 25% (2nd)
Estimated white trash: 5,393
Rounding out the list of the ten most white trash cities in Pennsylvania brings us to Dallas, near Scranton. Dallas has the 3rd highest number of single white moms, and the 2nd highest dropout rate in the Commonwealth.
White trash is a lifestyle in Dallas. But if you live in Berks and Dauphin County, you have no place to judge, since there's a good chance your cousin lives in Dallas.
Better hope they don't need to borrow your car.
There You Have It
According to the official dictionary definition of White trash, and based on stereotypes that the internet says are true, using science to determine the most White trash cities in a state can't be too far off.
If you're analyzing cities in Pennsylvania with lots of angry welfare recipients, single mothers and where people have lots of options for payday cash loans, this is an accurate list.
If you're curious enough, here are the least white trash places in Pennsylvania:
Franklin Park
Fox Chapel
Camp Hill
For more Pennsylvania reading , check out: