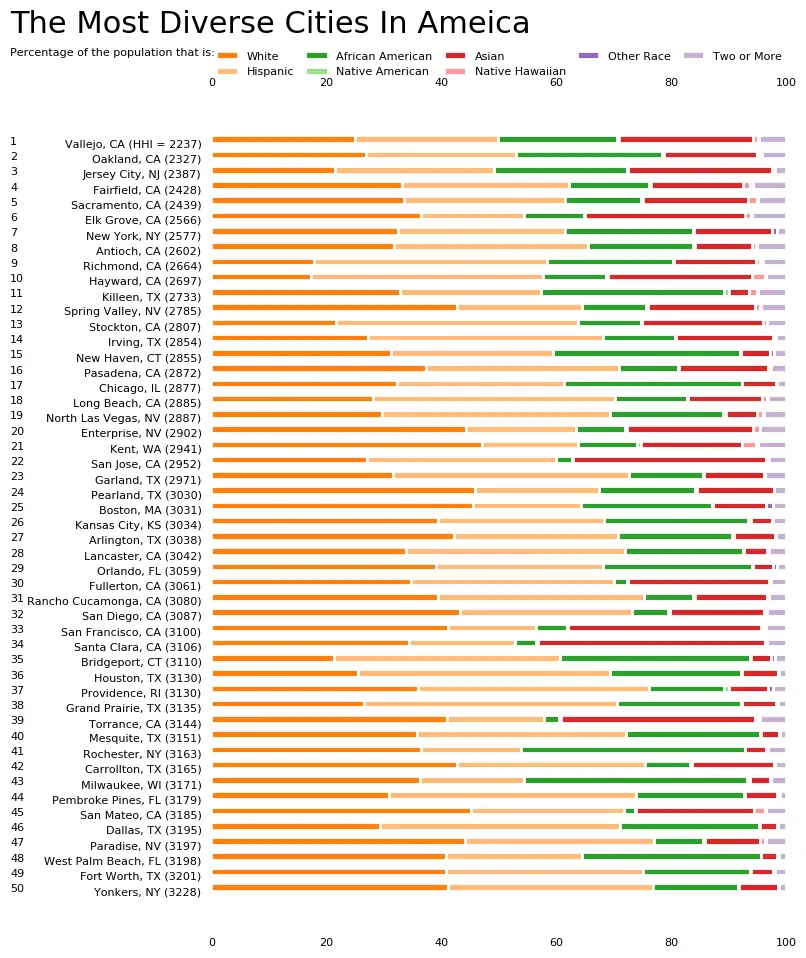 How We Determined The Most Diverse Cities In America
We decided to look at racial diversity across America using the most recently available data — the 2011-2015 American Community Survey data from the US Census. Specifically, we looked at table B03002: HISPANIC OR LATINO ORIGIN BY RACE. Here are the actual categories as defined by the Census:
White alone*
Black or African American alone*
American Indian and Alaska Native alone*
Asian alone*
Native Hawaiian and Other Pacific Islander alone*
Some other race alone*
Two or more races*
Hispanic or Latino
* Not hispanic or latino
We limited our analysis to only cities with greater than 100,000 people. That left us with 307 cities.
We then calculated the HHI for each city by taking the percent of each of the above for the state, squaring them, and then adding it together. This left us with scores ranging from 2237 (Vallejo, CA) to 9441 (Surprisingly, East Los Angeles, CA).
Finally, we ranked each city based on the HHI with a lower score being more diverse than a high score. Vallejo took the distinction of being the most diverse, while East Los Angeles was the least diverse city.
Detailed List Of The Most Diverse Cities In America
| Rank | City | State | Population | HHI |
| --- | --- | --- | --- | --- |
| 1 | Vallejo | California | 118,995 | 2,237 |
| 2 | Oakland | California | 408,073 | 2,327 |
| 3 | Jersey City | New Jersey | 259,651 | 2,387 |
| 4 | Fairfield | California | 109,468 | 2,428 |
| 5 | Sacramento | California | 480,566 | 2,439 |
| 6 | Elk Grove | California | 161,084 | 2,566 |
| 7 | New York | New York | 8,426,743 | 2,577 |
| 8 | Antioch | California | 107,501 | 2,602 |
| 9 | Richmond | California | 107,597 | 2,664 |
| 10 | Hayward | California | 152,401 | 2,697 |
| 11 | Killeen | Texas | 136,378 | 2,733 |
| 12 | Spring Valley | Nevada | 186,632 | 2,785 |
| 13 | Stockton | California | 299,722 | 2,807 |
| 14 | Irving | Texas | 228,776 | 2,854 |
| 15 | New Haven | Connecticut | 130,612 | 2,855 |
| 16 | Pasadena | California | 139,899 | 2,872 |
| 17 | Chicago | Illinois | 2,717,534 | 2,877 |
| 18 | Long Beach | California | 470,237 | 2,885 |
| 19 | North Las Vegas | Nevada | 226,860 | 2,887 |
| 20 | Enterprise | Nevada | 125,498 | 2,902 |
| 21 | Kent | Washington | 124,292 | 2,941 |
| 22 | San Jose | California | 1,000,860 | 2,952 |
| 23 | Garland | Texas | 234,213 | 2,971 |
| 24 | Pearland | Texas | 101,725 | 3,030 |
| 25 | Boston | Massachusetts | 650,281 | 3,031 |
| 26 | Kansas City | Kansas | 148,855 | 3,034 |
| 27 | Arlington | Texas | 379,716 | 3,038 |
| 28 | Lancaster | California | 159,774 | 3,042 |
| 29 | Orlando | Florida | 256,738 | 3,059 |
| 30 | Fullerton | California | 138,976 | 3,061 |
| 31 | Rancho Cucamonga | California | 171,858 | 3,080 |
| 32 | San Diego | California | 1,359,791 | 3,087 |
| 33 | San Francisco | California | 840,763 | 3,100 |
| 34 | Santa Clara | California | 121,374 | 3,106 |
| 35 | Bridgeport | Connecticut | 147,340 | 3,110 |
| 36 | Houston | Texas | 2,217,706 | 3,130 |
| 37 | Providence | Rhode Island | 178,680 | 3,130 |
| 38 | Grand Prairie | Texas | 183,500 | 3,135 |
| 39 | Torrance | California | 147,589 | 3,144 |
| 40 | Mesquite | Texas | 143,584 | 3,151 |
| 41 | Rochester | New York | 210,745 | 3,163 |
| 42 | Carrollton | Texas | 127,279 | 3,165 |
| 43 | Milwaukee | Wisconsin | 599,498 | 3,171 |
| 44 | Pembroke Pines | Florida | 162,243 | 3,179 |
| 45 | San Mateo | California | 101,335 | 3,185 |
| 46 | Dallas | Texas | 1,260,688 | 3,195 |
| 47 | Paradise | Nevada | 226,957 | 3,197 |
| 48 | West Palm Beach | Florida | 103,588 | 3,198 |
| 49 | Fort Worth | Texas | 796,614 | 3,201 |
| 50 | Yonkers | New York | 199,435 | 3,228 |